RYA Website:
the way forward
Prof Stephen Heppell
Ultralab December 1999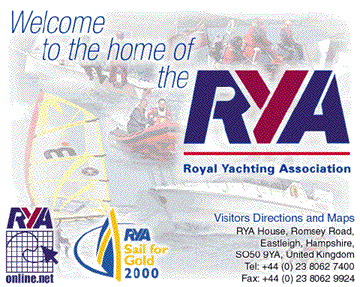 The RYA website needs revisiting in the light of changes in the needs and expectations of RYA members and sailors. This document offers a summary of needs that the site could and should address, together with an exploration of the site's problems, with a strategy to move forward.

Moving forward is urgent.
Many organisations respond to the need for a web presence and, of course, have been surprised by the rate of escalation of that need. Often the primary pressure for change comes from members and clients of those organisations, and properly so.

Unfortunately building a web presence is not a simple task. The information flow that it supports, both into and out of the organisation, must be structurally embedded in internal systems or the site ends up chasing the organisations 'authoritative' paper and other communications. Worse still, since everyone in the organisation can originate paper but few are able to originate web pages (not through a lack of competence or ideas but through a lack of opportunity, because the site was designed wrong) the 'web team' become a bottleneck in the organisation's crucial conduit of interchange with members and clients. As a result the site fails, frustrations abound, the organisation's professional competency is called into question and an opportunity to cement a community sharing a common interest is lost. Damage is done and inaction, or even too-slow-action exacerbates that damage. In a worst case scenario anarchy reigns as internal teams, groups supported externally by the organisation, individuals and departments seek to address the problem with individual solutions; some succeed, some fail and the organisation disintegrates as a structure.

The RYA is perilously close to this 'worst case' scenario but no blame should be allocated. The problem is normal. Looking at the web sites of other national sailing authorities it is clear that may have managed to do even worse.

The broad principle is simple: the site should serve the needs of those who have to communicate: with each other, with members, with other organisations. It should do this by empowering accredited individuals to use the site to originate materials, to initiate discussions, to manage communications. The site needs tools to allow people to do it for themselves, not a team to do it for everyone. Organisations need agility and new bottlenecks, as a web presence often becomes, are damaging. To illustrate that, collecting daily or weekly news items to add vigour and immediacy to a site would require a dedicated team and much important news would be missed. Building a news 'template' and offering it to a large number of accredited individuals (who need to be good at identifying appropriate news items not at writing HTML) results in a vast and appropriate flow of compelling stories at minimal cost. The mantra is 'disaggregate and empower' not 'control and provide'.

Internal systems need to move to seeing the website as the starting point for communications. "You read it here first" should be notionally on every page and this means a serious revisiting of systems - for example the systems that generate print at present - and design protocols.

Finally, it is important to realise but the RYA's information and communication is not seductive per se. It may be useful (if the technology is fast and unobtrusive) but to be seductive (and thus to become a regular port of call for a substantial number of sailors) it needs multiple media and a clear awareness of users needs and of what delights users. Contrast for example the two pages below, one from the RYA site describing Will Howden, one of our full time sailors, the other from an Israeli site describing two of their top girls. Both lack something - the Will Howden page lacks engagement and usefulness (users want to know - "what route did they come to this expertise, what did they previously sail, what equipment do they use..." and indeed the information is frustratingly partial). The Israeli page is visual but with little information. It is easy to see that by offering a contributory tool Will could flesh out his own details in a personal and engaging way, contributing pictures and reporting technical failures too.

above: sailor profile from RYA current site (note broke image link by the way)

above: sailor profile from Israeli sailing site
(which perhaps overdoes the image at the expense of information!)

None of this is easy, but done well at the outset it can be encouragingly cheap. The alternative is to be constantly surprised by, and unable to keep up with, the needs of the communities that the RYA is set up to serve.
The current site fails technically (see "The current site and its failings" below)

The new site needs to be built on a large database engine (we recommended Oracle 8i) which generates all the pages according to context and audience. At present there is a database underpinning some of the pages but it seems not to adhere to open standards and thus fails on many computers. The site should anticipate a considerable diversity in the equipment sailors 'log on' with: set top boxes, portable PCs, PDAs, consoles, in fact everything. In a recommendation to the DfEE we wrote:

It would be wrong to either presume a consistency of software or hardware in the 7-11 year old population. It would be downright foolish to expect that this will become more consistent in the future, indeed the diversity will widen considerably.

Our research shows that children log on where (and when) there is opportunity: from school, home, public access points, friends, anywhere. They use whatever equipment is available: ubiquitous desktop machines, portables but also anything else that they have access to, even temporarily. They use whatever browser is available and whatever operating system.

This is no different for adults and the RYA site should support them all, by design. As an example of the failure that results from not adhering to an 'open' approach to what the site supports the current site is almost unusable on a 640x480 or even an 800x600 screen ruling out many households unnecessarily.

Contributory tools need to be developed, a server owned and established with considerable bandwidth and performance, it will need a rigid regime of back-up and monitoring. The server should from the outset be designed to collect some specific statistics.

Data protection implications should be monitored.
As an organisation both communicating with and on behalf of its members, whilst representing sailing in general, and with an authority and responsibility to uphold, the RYA's communication needs are complex: marketing, informing, managing, debating, consolidating, lobbying and so on. Below is an initial look at some of the Internet's contributions to meeting the RYA's needs. These sections and functions are separated in a way that should be reflected in the design of the RYA website. There is no attempt here to explain these in terms of the technical architecture underpinning them, but they can all be done technically and already are by many (see technology below)
web reference site
Where printed paper leaves a reader with many questions unanswered (is this the latest version?, where did I leave it?) a reference area on a website signals a reliable home for 'authoritative information': the current PN, the most recent appeals, the correct calendar, up to date phone and email lists.

This information section needs to be clearly flagged as definitive, needs an information management strategy to ensure that it is exactly that (for example everything should by definition appear there first, before paper, not after).

This section needs daily management and is only authoritative if it is maintained meticulously. Just as with paper information there will need to be templates and standards to ensure that the information is complete and useful over time. A bonus is the back reference opportunity that past documents offer.
selection of annotated pointers
There are other authoritative sites for sailors worldwide - ISAF for example - together with a number of useful information sites (for example sponsored sites giving notice of race for championships, weather sites, nutrition, cultural and medical advice overseas… The RYA site does not need to repeat this information (indeed version management would then become a major task) but it does need to point, with authority (and explanation), at sites that are endorsed and valuable to UK sailors.

This information section needs to be clearly flagged as advisory and needs weekly management. Tools need to be developed to enable these annotations to be created by many.
forms and contributions
The RYA has many forms for members and others to complete. The RYA site has a mix of forms to "print out and fill in by hand" but it needs a specific forms engine on the web site to easily generate the many forms required to be offered. It is not unreasonable that these forms would be processed at least as fast, or faster, than paper ones. This needs to be designed properly at the web end, but also at the RYA systems end. The 'forms engine' should include simple information gathering forms; for example questionnaires, surveys, etc. The important design task is for the 'forms engine' to enable any RYA staff / committees that need forms to be able to author those forms themselves.

The 'forms engine' will need annual revision in the light of experience.
search
A specific searching area needs to offer a fast (and efficient) search of all the RYA site, including all contents. It also needs to suggest example searches to help guide users through what may be possible to support through the RYA site ("looking for a champion club in your area offering RYA Instructor level courses?"). Ideally it should support free text in the search box ("find me any information about Champion Clubs in East Anglia please") but this may take time.

An implied consequence of this is that all information should be (digitally) stored within reach of the 'search engine'. At present this is not the case. The 'search engine' will need annual revision in the light of experience. A log of attempted searches is a powerful tool for analysing the effectiveness of the site and clarifying the site users' needs.
committee management zone
Committees have four needs the Internet can help support, they need:

• a reference space where their current agendas, minutes, papers and decisions can be found, but including past agendas, minutes and papers;

• a discussion space where dialogue about those agendas, minutes and papers can be conducted on-line in a way that allows others in the debate to view the 'whole' discussion;

• a definitive mail and contact list of committee members including a single mail address that distributes email to all.

• an optional 'public face' where the timetable for committee items being debated, or even some of the debate (or summary), might be represented (eg timetable for Youth Asymmetric class selection, or RYA response to proposed government legislation).

This section needs to be password controlled for contribution and access and needs daily management. Again, "contribution by many" reduces the administrative load.
group management zone
There are other groups besides committees needing support as communities: for example coaches. They similarly need a reference space for papers, a discussion space for dialogue, a definitive mail or contacts list and an optional place to offer public documents or debates.
eSales area
As eCommerce sites become more common and more sophisticated members and customers will expect a higher quality on-line sales service for booklets, regalia, membership and the whole range of paid-for items. Speed of selection and payment, fast access to additional information, images of the item (even with booklets people often know what the booklet looks like rather than precisely what it is called). Sales might also include bookings for courses as a service to course centres.

This section needs daily management but sales might be reasonably expected to increase substantially.
news area
The simple lesson of organisation news management is that people make the news faster than one person, or team, can re-purpose it for publication. The result is lost opportunity as good stories with potentially powerful impacts for sailing are lost. With a properly constructed news template area and many approved contributors (password controlled) who may include class representatives, coaches, funded sailors, committee chairpersons and others, news can be added from anywhere in the world, with ease, by those closest to the breaking story. It is not unreasonable to anticipate at least one or two items daily. This 'news' element is essential in attracting people to the site and a key reason for 'return' visits from sailors and others.

This section needs to be password controlled for contribution but be open and free for access. It needs weekly management, for occasional gentle sub editing and quality control of contributions.
discussion forums
It is a debatable point as to whether these should be hosted by the RYA or not (there are many examples of discussions hosted successfully elsewhere, eg - http://www.ukdinghyracing.com/). If the RYA site is designed well enough that visitors feel some 'ownership' and community then these forums probably should remain elsewhere, but this should not preclude some specific debates and discussions - for example to explore members views on alcohol limits for motor boat skippers.

Such a forum would require considerable mediation and moderation if it is to be useful rather than just a 'place for gossip'. Do not underestimate the expense of this kind of activity.
people pages
Sailing first and foremost is made up of people and boats. There is a desperate need for a place where sailors can represent themselves to each other. For example how does an aspiring junior sailor understand the pathways that led our current Olympic aspirants to their pinnacles? Where do those aspirants credit their sponsors and coaches? Where do our successful youths place their racing CVs for potential sponsors and to help themselves and their coaches know more about each other. As we move to a broader based geographically spread set of national and regional youth squads this becomes rapidly more important.
The website as present constituted simply fails to provide a service for users and is so poor as to be damaging to the RYA's reputation whilst repelling interested visitors. This is not satisfactory.

Underpinning the website with a database was a wise decision; sadly in every other respect the site fails. For this paper a group of undergraduates were asked to explore the site with some specific and appropriate tasks:

find the current PN for a 29er,
find dates for women's match racing event entry submissions, or womens' sailing in general
explore information about nutrition for cruising or racing,
find a sailing club near their home address,
investigate the viability of a club becoming a Champion Club.

These were selected, after discussion with an eclectic group of sailors, as appropriate tasks. The testers failed on every single task, but worse, reported a level of frustration and dismay that clearly indicates that the current site is actively hurting sailing. A search for instructors' courses by the way reveals none.

To list all the failures would unbalance this document because there are so many, but below is a sample of some problems:

the front page is far too slow to load, taking "forever" on a home phone and modem. The very first page requires java - thus ruling out a significant number of users - and the Java was so badly written that the navigation buttons were rendered useless leaving the user the choice of ordering a booklet or joining the RYA (the only options that worked when the navigation buttons had failed) - there was no link to feedback problems.

badly written code in the site's pages throws up a wide range of error codes and syntax errors, for example:

Error Diagnostic Information

ODBC Error Code = 37000 (Syntax error or access violation)

[Microsoft][ODBC Microsoft Access Driver]
Syntax error in FROM clause.

this level of failure is completely unacceptable


although www.rya.co.uk has been registered (and it is a url many members may guess at) it leads only to blank page:




above: collage of failures and errors from current and previous sites

the front page graphic is huge both in file size (45K) and area with no purpose at all but to slow initial access to the site - even the RYA address is embedded as a part of the graphic so that cut and paste of this essential information is rendered impossible


| | |
| --- | --- |
| the role of graphics is unclear and there is no house style. Some do, and some do not, offer links to elsewhere within the site - for example the regional map (below) has no links, no key and no function. | |

navigation is incomprehensible - users have no understanding of where they are or where else they could be. For example searching for a particular club leads a user to a Clubs and Classes page with no navigation to anywhere else in the site. It is a dead end, and there are many such frustrations; in the Cruising News online magazine section clicking on the wrong back copy leaves a user with no navigation back again.

the use of "frames" makes printing and bookmaking at best difficult, probably impossible, whilst contributing little to the site that could not be added in other ways.

although some areas are trying hard (windsurfing is good) many rely on vast scrolling fields of text. For example a good report on Royal & Sun Alliance RYA National Youth Speed Challenge runs to 992 words without any image. Similarly the Volvo RYA Youth Programme selection and training procedure is online but has 1800 very small words. In both cases the target user (youths presumably) will not read to the end, ever.

blue text is often used, but by default many users' browsers are set to show hot links as blue text. This is confusing and a triumph of form over function.

either searching fails comprehensively to search, or the site has some huge gaps in the information it carries. Taking the tasks one by one (they were completed in November '99):


find the current PN for a 29er: the site search found only one reference to 29er in a generic section about youth sailing "If there is a 29er World or European championship in 2000 there will be similar training and selection for those sailors". The testers were unable to find the current, or any, PN for the 29er.

find dates for women's match racing event entry submissions: search found nothing at all on women's match racing, indeed a search for "women" only found 9 documents of which 6 were sailboard related and one cruising. Exploring the site without search the testers were unable to find any information about women's match racing.

explore information about nutrition for cruising or racing, Searching for "nutrition" found no "matches" to the search.

find a sailing club near their home address, searching could find a club but only if the name was already known (giving contact details for example) but there was no way of searching for example by postcode.

investigate the viability of a club becoming a Champion Club. The single reference to Champion Clubs that search revealed was under SE Region news welcoming Bough Beech becoming a Champion Club.

There were many more problems with finding information on the site but the above are illustrative and sufficient; clearly there may be additional information somewhere on the site to address some of these questions - and useful publications probably - but the abject failure of our testers to complete their tasks and the inadequacy of what they did find, all point to a complete "start again" for the RYA site, urgently.
The RYA needs a strategy for digital communication rather than simply an Internet, or an email, or a web strategy. The Internet is but one medium through which this communication can happen, but there are several others - from the messaged information flow to mobile phones to rapidly multiplying digital TV channels and even game consoles. Indeed new mobile phone technologies will certainly prove to be as significant as the Internet in changing the nature of communications between individuals and organisations.

This digital communication strategy is almost certainly a key part of the RYA's future marketing, but also of it's future revenue.

A successful and widely visited site is a substantially potential source of advertising revenue too, especially given the socioeconomic profile of sailors. This should be a consideration in planning the cost and pace of change.
The RYA's needs and problems of course mirror those of many other sports authorities. It is quite likely that moving quickly would enable grants to be released for an ambitious strategy that would solve sailing's needs, but also offer a general model to duplicate in other sports too. First in wins the grants. This should also be a consideration in planning the pace of change.
Firstly it is important to establish that this is a "no blame" situation. What has been done so far has been done no doubt with goodwill and enthusiasm, but secondly it is important to recognise the urgency of the need for change. Whilst this report was being drafted two excellent UK sailing websites have appeared both of which have the potential to dominate an information area that the RYA needs a substantial presence in - the implications of Yachts and Yachting (for example) hosting a Youth Sailing web area, and hosting it well, could be considerable...

There are some immediate steps:
Firstly a policy decision about whether the RYA site will be revenue generating (as with advertising on the ISAF site for example) or not. Some of this decision will be presumably informed by rules from DCMS on sports funding. This will have implications for the budget available.

Alongside this the other broader policy decisions will need to begin to be put in place (see future proofing above).

Secondly a tight design specification will need to be developed. This will need to be discussed iteratively with all the potential users within the RYA and its committee structure. This would be a very expensive task commercially but I believe there is sufficient expertise and goodwill for it to be done quickly, affordably and well within RYA resources. This document, especially the "taxonomy of needs and solutions" should be a useful starting point, as would the "current site and its failings" section.

Thirdly the website will to be evolved alongside, rather than from, the existing web work. This will have implications for server location, located and the regime of daily back-up and security. Although any server and software will always be a substantial and recurring expense it is highly likely that the RYA wouild be able to receive these items freely, or cheaply, as donations or sponsorship in exchange for some sponsor credits on the site. An exceptionally high proportion of influential people in the computer industry sail!.

The three steps above should / could be completed by Easter 00.

Fourthly the work of building a contributory site that meets all the needs delineated above should be an in-house task for the RYA and will need a short term team to develop the tools, templates and graphical components (probably four people). This will need a specific "site initialisation" budget, will need a project manager and a clear timeline. In practice it is likely that this team could be assembled partly, and economically, from year '00 graduates leaving their courses in May '00 and keen for a substantial project to enhance their CVs.

This work should be completed by mid summer.

Then, finally, there is then a need for a full time individual who can maintain the code on the server and evolve the system. There will also be a need for a graphics support as the system changes, both to keep it fresh and as new capabilities are added. This would normally be met by a relationship with a freelance designer familiar with the needs of web graphic design (ie capable of maintaining a very 'lean' file size for graphic elements). The relationship will need to be an enduring one if the 'look and feel' is to be consistent.

This work will be ongoing.
---
12/1999